Titleist 917
The Titleist 917 driver range gives more distance through higher speed and lower spin. Active Recoil Channel gives a wide sole channel delivering more distance by actively flexing at impact to launch the ball off the face with higher speed and lower spin.
SureFit CG
Allows the CG to be moved from a back, heel position to a forward, toe position through interchangeable weights, optimizing spin and launch conditions for every player.
Active Recoil Channel 2.0
Refined thickness through the channel reduces spin and increases speed.
Radial Speed Face 2.0
Enhanced with a thinner perimeter face width to promote a greater off-center ball speed for more overall distance across the face.
SureFit Hosel
16 independent loft and lie settings, create a more consistent and optimized ball flight through precision fitting.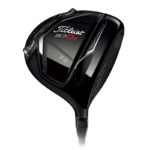 The Titleist 917D2 will help you hit more fairways with maximum distance and forgiveness. The 460cc pear profile provides both confidence and stability.
It delivers a slightly higher launch and more spin versus the Titleist 917D3.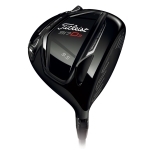 The Titleist 917D3 is both workable and forgiving, delivering distance with trajectory control. The 440cc deep face pear profile provides confidence to manage your trajectory.
It produces a slightly lower launch and less spin versus the Titleist 917D2.
Call us on (06) 364 6468 to get the best NZ price clubs in the Titleist 917 range.
Wilson Staff C300
Introducing a revolutionary new driver with the power, feel and accuracy that only a Wilson Staff driver can deliver. Power holes generate explosive distance across the entire face by flexing more at impact. More flex equals greater ball speed. More ball speed means longer drives. Power up your long game.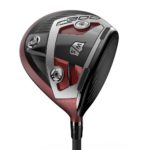 Each of the clubs in the new Wilson C300 family embodies The Right Light™ technology, which optimally positions limited available mass to create a powerful, balanced, solid-feeling and sounding golf club.
Wilson Staff research and testing shows players of all calibers benefit from swinging lighter clubs because they apply the same amount of effort, but achieve greater distances due to increased club head and ball speeds.
Recoil Technology optimizes the spring effect and promotes the most efficient energy transfer from butt to tip to maximize ball speed and reduce ball dispersion.
Variable Wall Thickness technology creates layers of graphite in each section of the shaft that vary for enhanced feel and better control and accuracy.
Call us on (06) 364 6468 to get the best NZ price clubs in the Wilson Staff C300 range.
Wilson Staff C300 and D300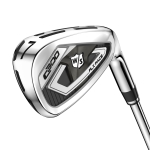 The C300 from Wilson Staff has been designed to deliver greater distance and superior feel. For accuracy and power, C300 irons feature Power Holes around and through the entire club head for explosive distance across the entire face.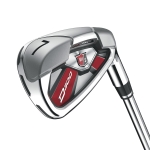 The D is D300 not only stands for distance, it defines it. The next generation of FLX Face Technology allow for 76% of the face to be completely free from the body, delivering maximum bend and a powerful launch. With visible technology around the entire face, the Power Holes filled with TE031 Urethane allow the face to flex upon impact for improved feel, with a crisp, pure, recognizable sound for distance and accuracy.
Call us on (06) 364 6468 to get the best NZ price clubs in the Wilson Staff C300 and D300 range.
TaylorMade M1, M2 and 790 Irons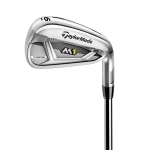 In 2017, TaylorMade introduces the M1 irons — an entirely new line that packs the distance and forgiveness of M2 irons in a more compact shape for improved control. M1 irons have been crafted to bring as much of the speed, forgiveness, and playability of the M2 irons, but deliver it to the player who prefers a slightly more refined look along with additional control and workability.
M1 irons feature both Speed Pocket Technology and Face Slots, which are designed to increase flexibility at the boundaries of the clubface to improve consistency of ball speed on off-center impacts. This combination of technologies is designed to produce longer, higher shots with improved consistency and dispersion on all shots.
With a smaller overall head size, reduced offset, thin toplines, and shorter blade lengths, M1 irons are more compact than traditional distance irons and provide a confidence-inducing look at address. The result is a visual appearance at address suited for the aspirational and better players while offering performance typically found in modern distance irons.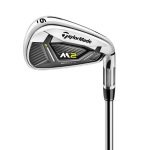 The 2017 M2 irons give golfers the complete performance package with low CG, Speed Pocket technology, Face Slots, and Geocoustic engineering—it's our most technologically advanced distance iron. Each technology in M2 irons works together to help golfers achieve more distance, peak trajectory, and forgiveness—overall, a more consistently performing iron swing after swing.
New to M2 irons, engineers incorporated Face Slots that help preserve ball speed on shots struck toward the heel or toe, giving golfers more distance and more control—making your mis-hits better and your best shots extraordinary.
Additionally, the M2 irons incorporate a new thin-wall Speed Pocket, designed to increase face flexibility and protect ball speed on strikes below face-center while also increasing launch angle and ball speed.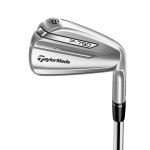 P790 irons pack powerful performance into a clean, classic design to deliver unprecedented distance in a players iron. Through a combination of forged construction and our revolutionary new SpeedFoam Technology, golfers will experience feel, forgiveness, and workability unlike any iron of this caliber.
The Taylormade P790 engineers have answered the challenge of creating a forged iron that delivers remarkable distance as well as enhanced playability and feel—all in a refined shape preferred by discerning players.
The P790's hollow cavity uses SpeedFoam Technology, a new proprietary construction, which serves a dual purpose of generating ball speed as well as optimizing sound and feel.
The incorporation of the new wrapped face construction creates a cut-thru Speed Pocket on the sole with extreme flexibility in the lower part of the clubface; it's this flexibility that creates greater forgiveness and consistency than is typically seen in a distance iron design.
The P790 also features an ultra-thin 1.75mm face thickness with re-engineered Inverted Cone Technology optimized for the slightly smaller face area. The new, smaller Inverted Cone allows for reduced face thickness at the edges of the face, thus increasing flexibility from heel to toe and low on the clubface, resulting in more ball speed across the entire face.
Call us on (06) 364 6468 to get the best NZ price clubs in the TaylorMade M1, M2 and 790 Irons range.